Mills is committed to providing the setting for living life's best moments. This core purpose applies to our team members, residents, investors, and prospects.

We strive to create a fully engaged company culture, strong communication rhythms, and dynamic training program that taps into the expertise and creativity of all team members. To achieve this, we empower our entire team to execute our core values and core purpose in everything they do.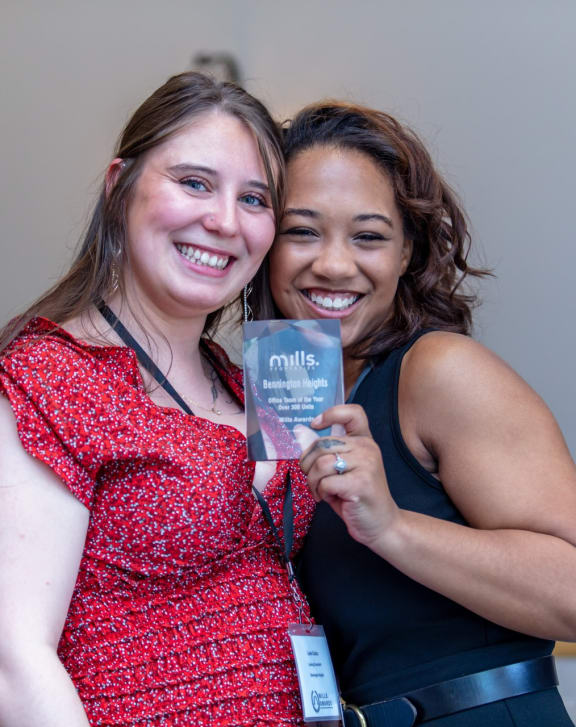 Core Purpose
Providing the setting
for living life's best moments.
Core Values
This proven foundation encourages, inspires, and motivates all our team members to live their best life.

Act Like
An Owner
You take ownership of situations from start to finish and put forth effort to bring it to a satisfying conclusion.

Find A
Better Way
You challenge the status quo by applying better solutions to new opportunities. You are forward-thinking and unafraid to take risks and find innovative solutions.
Go The
Extra Mile
You go above and beyond the requirements of the job to exceed the expectations of others.

Pay It
Forward
You put others first and look for ways to spread kindness, offer a helping hand, and make a positive impact to others without expecting anything in return.

Serious
About Fun
You recognize the importance of having fun in the work environment and creating positive, meaningful experiences for both residents and co-workers alike.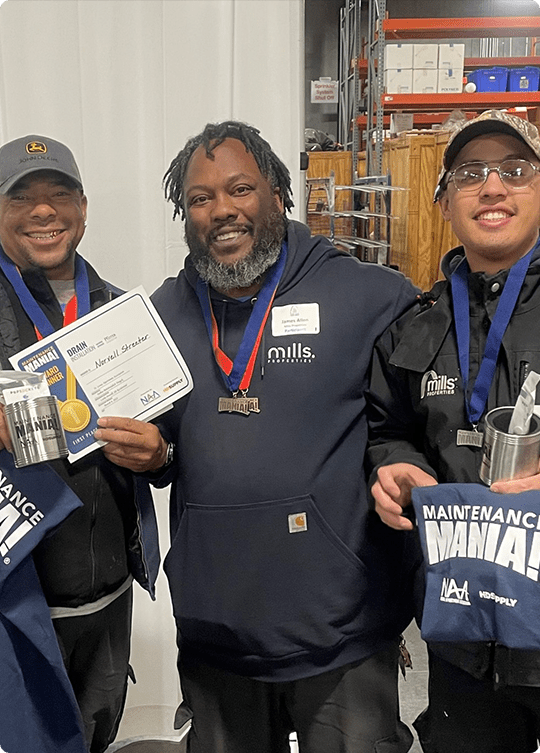 We Love
Recognizing
Achievements
Great accomplishments should be celebrated. At our annual Mills Awards, we carve out the time to celebrate members of the Mills family who go above and beyond to make Mills the best in the industry. Employee appreciation doesn't stop there. We pride ourselves in rewarding our people who achieve and exceed their goals—community awards, associate awards, and tenure awards are just a few ways we show our appreciation.
Employee Review
Mills Properties is a local company with a strong history and many long-term team members who are some of the best at what they do. With a mindset of constant improvement and always pursuing excellence, the team continues to push each other to new levels of personal growth and synergistic teamwork. With long term plans of growth, there is opportunity for advancement for those who desire to help bring things to the next level. Recent years have brought increased attention and focus to providing work-life balance including very competitive benefits.

– Regional Manager, Columbia MO
Upper-level management is outstanding at Mills. I've worked for several different property management companies during my career and I can honestly say that Mills is the best in regards to hearing ideas and truly wanting to do the right thing for both their employees and their customers. Everyone at the corporate office is always helpful and willing to answer questions. You will be recognized for a job well done and you will be offered true guidance if you fall off track. The entire company is full of enthusiasm and positivity and it really makes it a great place to work.

– Maintenance Technician, Columbia MO
Met some exceptional people, fun job. Learned a lot from my colleagues. Definitely a well diverse group of people that I worked with. This company has an excellent community presence.

– Leasig Consultant, St. Louis MO